Why Do Dogs Like To Hang Their Head Out the Car Window?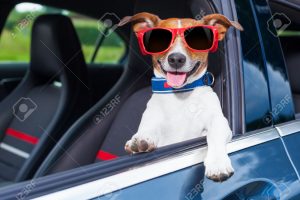 Dogs hang their head out the car window not to tease the other kenneled, fenced-in, or in-the-house-dogs with the fun they are having.  Nor do they hang their heads out the car window because they look cool -ears flapping and a silly grin on their face.
We all know dogs have an advanced sense of smell.  Each snout houses 220 MILLION scent receptors!!  Can that be surprising then, that all dogs use their sense of smell to gauge and measure their worlds?  We can barely image given our meager olfactory senses in comparison to theirs.
Dogs shut up in a car experience the same kind of sensory deprivation that us humans would stuck inside a dark room.  So when a dog sticks it's nose out the car window – POW, it is essentially flipping the switch to heaven.  Even a small crack in the window, your dog will wedge it's nose into that small space – just to get a taste of what is going on in the world outside.
Ironic that driving down the road with the blasting wind in their face they love – yet, when we blow on their noses they loathe it.  Yet, we still love them.
Buddy Beds Travel Bed Sale – 1/2 Off 
Memory Foam Folding Travel Beds