Help for Dogs Afraid of Thunder and Fireworks
Dogs afraid of thunder and fireworks.  Fortunately, anxiety in dogs is better understood these days and there are a variety of tools to help.
Story by Jennifer M Brauns printed in Mile High Dog – June/July 2017
Fourth of July is a celebration most people enjoy, but it can be utterly terrifying for anxious dogs. While growing up, my family had two such dogs who could not be consoled or contained when it came to thunderstorms and fireworks. Chewing through any and every obstacle in their desperate search for a safe place to hide, they would often inadverently injure themselves or others along the way. While prescription sedatives did provide some much-needed relief, we always felt bad for having to resort to these tactics. There was no better solution at the time.
Fortunately, anxiety in dogs is better understood these days and there are a variety of tools available to help fearful, nervous and anxious dogs. Help-base cannabadiol (CBD) products, which have come to market in the last few years, are a most viable and helpful tool. We have an extremely anxious and fearful Dachshund who has made an excellent case study. Whether making stressful visits to the vet's office, riding in the car, or weathering a thunderstorm, CBD oil is one solution we've tried which has made a major difference in the stress, anxiety and fear level of our four-legged family member.
There is much confusion about CBD these days, so let's start by examining what it is. Both hemp and marijuana come from the same plant, cannabis sativa, but they are from very different varieties. While marijuana contains large amounts of the psychoactive component tetahydrocannabinol (THC), industrial hemp plants must contain less than .3% and is legal in all 50 states and more than 40 countries. The CBD Project website calls CBD "a non-intoxicating cannabis compound with significant therapeutic properties."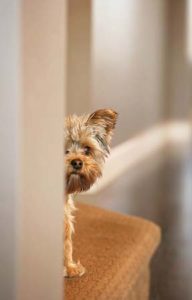 Healthful Benefits
For dogs afraid of thunder and fireworks, there are dozens of cannabinoids which exist, CBD is best know for reducing pain and inflammation, and helping with anxiety, neurological disorders, tumors, seizures, skin condition, muscle spasms, arthritis, aggression, digestive disorders and compromised immune systems. Some Veterinarians have also found CBD to be helpful in healing fractures, sprains, torn ligaments, and as a post-operative therapy to combat stiffness, pain and swelling. That's quite an amazing list of health benefits.
CBD Work?
It may come as a surprise to know that all mammals have an endo-cannabidiol system. All of our connective tissues, organs, glands, immune cells and even our brain have cannbanoid receptors. This system is crucial for keeping our bodies in a state of balance or homeostasis regardless of changes in our outside environment. Boosting the CBD in your body — and even your dog's — can and does have profound and far-reaching effects on health.
Just as prolonged anxiety is harmful to our bodies, it is also detrimental to canine health. When your dog is anxious, he becomes tense, his heart rate increases, he may pant, lick or chew on himself, or even become destructive to your home and belongings. So how does CBD help dogs who are fearful or anxious about fireworks and thunder?
According to Therabis, a Denver-based maker of CBD products for pets founded by veterinarian Dr. Stephen Katz, "CBD calms hyperactivated nerves in the limbic system in a dog's brain. These nerves may product too much electrical current, which the dog experiences as anxiety. CBD can change the behavior of these nerve cells in a process called cell signaling — wherein a calming signal is sent to the cells, which interrupts the transmission of the electrical current associated with anxiety." Therabis CBD products include Calm and Quit, Up and Moving, and Stop the Itch formulas, all in powder form.
There is help for dogs afraid of thunders and firework.  Co-founders Erika Arroyo and Tim Anderson of Denver-based CBD treat, oil and tincture company. Extracted Love, first discovered the healing and pain relieving powers of CBD for their own ailments. Erika had injured her back in a car accident and Tim had suffered major injuries playing football in his earlier years. Seeing their own success and later learning how dogs and cats could also benefit from CBD, Erika began baking treats for her German Sheperds with hip and elbow dysplasia. The two knew they were on to something and teamed up with veterinarian Dr. Laura Palumbo to start Extracted Love. They offer tinctures and oils in a variety of strengths, as well as CBD treats.
There are quite a few CBD products on the market which are formulated for pets. If you decide to try CBD for your pets, be sure to check the dosage in each serving. While most treats contain one or two milligrams of CBD each, powders, oils and tinctures contain much larger doses. As with all supplements, we recommend consulting your family veterinarian before giving CBD products to your dogs.