What is Hip Dysplasia?
Hip dysplasia is a painful condition that millions of dogs are diagnosed with every year. What is canine hip dysplasia? Sadly, it is a degenerative disease of the hip where the ball and socket components of the joint no longer fit tightly. The progressive deterioration of the joint is the heartbreaking result. Canine hip dysplasia is the most frequently encountered orthopedic disease in veterinary medicine. It can occur in mixed breeds of all types, but primarily it is a disease of purebreds. Most often it strikes the larger breeds such as Labrador Retrievers, Golden Retrievers, German Shepherds, Rottweilers, Great Danes, and Saint Bernard's.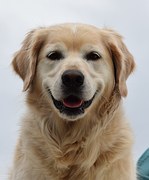 What are the symptoms of hip dysplasia?
What are the signs of canine hip dysplasia? Being familiar with the signs and symptoms of pain can help you determine if your dog may need veterinary attention. Read what the classic symptoms of hip dysplasia are on Buddy Beds website:  http://bit.ly/2guRQ4h
What can you do for hip dysplasia?
Diagnosis of canine hip dysplasia is made through the combination of a physical exam and x-rays. Treatment of canine hip dysplasia depends on the age and severity of the joint degeneration. Currently there are a number of surgical procedures that may be preformed.  Read more on the Buddy Beds website:  http://bit.ly/2guRQ4h