Preventing Heat Exhaustion in Dogs
unbearable temperatures that can be dangerous to your dog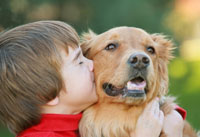 It is hot outside!! The inside of a car only takes minutes to reach unbearable temperatures that can be dangerous to your dog. It only takes a few minutes before it becomes a matter of life and death
We must remember that dogs are more susceptible to heat exhaustion than humans due to the manner in which they control body temperature. They only have sweat glands on the pads of their feet and on their nose, which are inadequate for cooling during hot and humid days. Panting helps dogs cool themselves but they still aren't as efficient at cooling themselves as people are. A dog's heavy coat also works against the cooling process which makes them that much more prone to heat exhaustion.
If your dog is experiencing heat exhaustion, he/she will exhibit obvious signs of distress. The symptoms to look for are:
tongue might become swollen or bluish in color
skin feels warm to the touch
shows signs of staggering in walking
a fever develops and/or his temperature might rise to more than 104 degrees
might begin to vomit or to experience diarrhea
exhibits evidence of delirium
Should your dog show signs of heat exhaustion, a trip to the veterinarian is necessary. Before transporting resuscitation efforts should be taken. Bath the dog's entire body with cool water. If possible, immerse him in a shallow tub filled with cool water. You should see signs of easier breathing shortly after this process.
Treatment administered by your vet may include a number of options including oxygen flow or injection to reduce the throat's inflammation.