Tips to Help Your Arthritic Dog

Important tips that may help your arthritic dog
Canine arthritis is a painful degenerative joint disease. An estimated 10 million dogs in the United States have been diagnosed with arthritis, and 31 percent of dog owners say that bone and joint problems are an issue for their pets. Arthritis is most common in older dogs. Yet unfortunately arthritis goes undiagnosed since owners attribute the subtle changes in their dogs to old age or slowing down.
What are the signs of arthritis? Being familiar with the signs and symptoms of pain can help you determine if your dog may need veterinary attention.
Some of the classic symptoms of arthritis are:
Stiffness after laying down
Lagging behind on walks
Reluctance to stand, climb stairs, jump or run
Stiffness or difficulty rising to their feet
Limping/stiffness after exercise or play
Slow, ginger movements
Difficulty climbing stairs
Difficulty jumping
Inability to run
They may even seem depressed.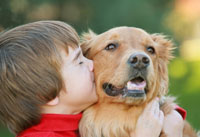 Here are some important tips that may help your arthritic dog:
1. Ramps. Ramps and specialty stairs can assist in getting up upon/into higher places while keeping them safe. Those beds, stairs, furniture and vehicles can be insurmountable barriers for the arthritic pet.
2. Floors. Hardwood floors and tile floors can be slippery! Put down rugs or runners to prevent your dog from slipping and injuring themselves.
3. Massage. Massage can increase circulation, flexibility, and sooth those aching joints and muscles. Check out professional animal massage therapists and qualified acupuncturists for a thorough treatment.
4. Exercise. Obesity is a major factor in arthritis. Moderate daily exercise maintains your dog's ideal weight while strengthening muscles and ligaments contributing to joint function. Don't forget to explore the many special diet foods available for weight loss and joint health.
5. Grooming. Arthritic pets struggle with what was once routine hygiene. Help them with regular brushing to remove mats and tangles. Don't forget to trim nails that once were worn down by exercise.
6. Stressful Events. Limit strenuous activity — even though they think they are still a puppy with a puppy's energy. Be aware of stressful events – loud noises, fire crackers, thunder, noisy parties and drastic changes in schedules.
7. Patience. Give him the extra time to climb stairs, get up from a nap, or get in the car. Give them the love and attention they deserve — even if they are getting a bit slower.